It's geek galore this week with a smattering of funny stuff. Take a break from the sunshine and spend 10 minutes checking out my highlights of the week!
This would be such a cool thing to be able to say about yourself if it were true! (source)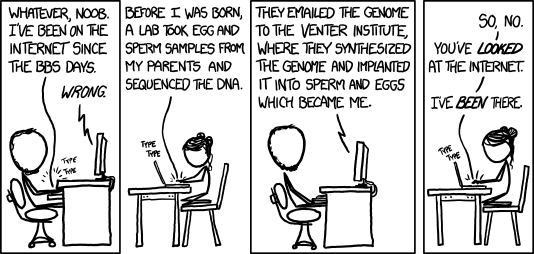 Now, taking geek to a new level, here is some bloke who has rigged up his entertainment system with every console known to man! I even see an Amiga CD32 in there I think! (source)

I'm a massive Radiohead fan and OK Computer still stands as one of the greatest albums ever created, so feel my sheer joy when I heard this 8-bit version of the entire album! It's amazing! (source)

And here is the 8-bit version of Kid-A too (source)

It's scary that this suggestion is becoming more and more common in my office. Dilbert is right on the pulse as usual!

Think the amount of Ketchup left in the bottle is wasteful? Fed up of spending hours scraping Marmite out of the jar? Here is the answer to all your prayers: A LiquiGlide coating for your bottles! (source)

I love it when kids are unintentionally funny (source)

And finally, what happens when parenting goes wrong. Warning, this video contains a scene of adult stupidity and extreme infant stress (source)