This week's highlights are brought to you by light sabers, cardboard knives and the zombie apocalypse!
Let's start off with a video that hilariously ruins the light saber duel in The Phantom Menace. A must see (source)

And to follow the gracefulness of that video, here is a cat showing excellent timing. I particularly love how the dog barely even breaks its stride (source)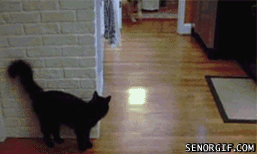 Here are some beautifully arty uses of a cardboard knife. Very cool. (source)

Every wondered what foods will fill you up the most and which ones won't give you a sugar crash? I have and this great infographic shows I should eat more fish and less rice! Here's a link to the full image (source)
And finally, this week I discovered a zombie video series on YouTube called "Bite me". It's aimed at video game geeks but that's why I like it. Here is episode 1 for your pleasure.