Spiders, flying cars, transformers and skip-rope round up this weeks highlights of the week.
This is one of the best stop-motion animations I have ever seen (source)

This is just one of many photos of spiders who have been forced away from their homes by flooding in Australia. Check out all the creepy photos at http://www.buzzfeed.com/gavon/spider-web-forrest-is-beautiful-and-terrifying

Keeping with the running theme of quadrotor posts here is the best one yet. Someone has used them to recreate the flying DeLorean from Back to the Future! (source)

I love little animated gifs of cats being cats and here is a great one of a cats reaction to missing his prey(source)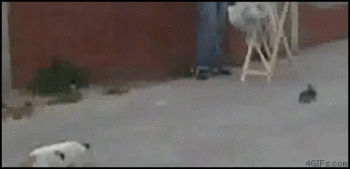 Lego is amazing and someone has managed to create a Lego Transformer of a first generation Game Boy. Even the Tetris cartridge turns into a robot! Check out more pictures here.
See this photograph? Look again, that's not a photo, it was drawn with a pencil… no really! Check out more amazing hand drawn photo realistic pictures here.

And finally, be mesmerised by this video of people skipping from the point of view of the rope! Not only is it amazing to see it go round and round but the way they seamlessly change location and skippers makes this even better (source)